Event Gathering Guidelines Update
On October 6, Governor Wolf and Secretary Levine updated their Targeted Mitigation Orders with respect to events or gatherings. Events or gatherings include things like fairs, festivals, concerts, shows, performances, meetings, conferences, parties, or receptions.

Under prior guidance, discussed in a prior client alert, events or gatherings—defined as "a temporary grouping of individuals for defined purposes that takes place over a limited timeframe, such as hours or days"—were limited to 25 people for indoor events and 250 people for outdoor events, both inclusive of any staff serving the event.

Under the new guidance, event occupancy is now based on the event space. The new guidance includes a "maximum occupancy calculator" for indoor and outdoor events to determine permissible capacity based on the event space's fire code occupancy limit. The maximum occupancy calculator for events and gatherings is as follows:

Maximum Occupancy Calculator for indoor events: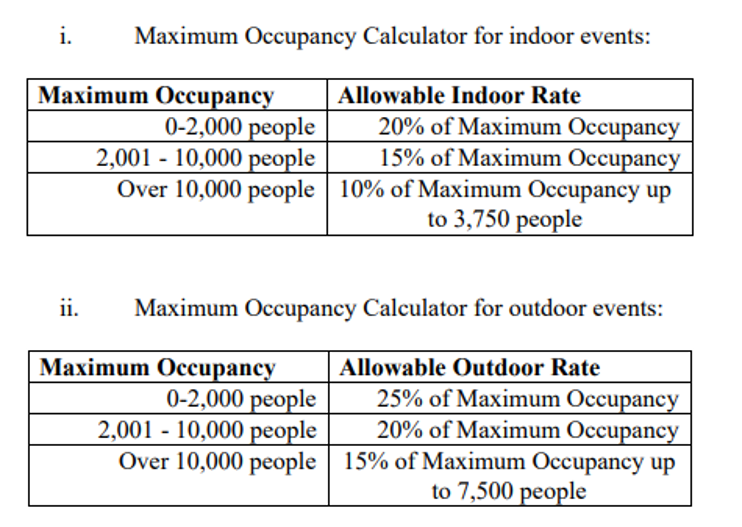 The revised Orders are attached to this client alert and the press release discussing the changes is available here. Other restrictions, such as social distancing and mask wearing still apply.

Please contact a MacDonald Illig attorney or call our office at 814-870-7600 if you have any questions regarding the updated Targeted Mitigation Orders, or with any other questions you may have.