New COVID Mitigation Orders Issued
On November 23rd, Governor Wolf and Secretary Levine concurrently issued three identical Orders and one Advisory in response to the COVID-19 pandemic. The new guidance is briefly summarized below.

Mitigation, Enforcement, and Immunity Order

Under the Orders, telework is mandated unless impossible. And where teleworking is impossible, in-person business operations are only permitted if a business fully complies with all existing and future applicable guidance issued by the Governor, Department of Health, and CDC.

The Orders also contain a series of mandates for businesses with in-person operations related to cleaning, operational mitigation measures, contact tracing responsibilities, and employee isolation and quarantine requirements. The Orders rescind and replace many prior Orders, largely restating many mitigation measures from those prior Order. However, even though the Orders largely restate earlier guidance, business owners should read the Orders closely to understand their obligations.

Under the Orders, generally businesses open to the public are permitted to operate at 75% capacity, however, there are a significant number of exceptions to this general rule. All of the following business segments must operate at only 50% occupancy: retail businesses in the entertainment industry (museums, amusements, etc.), gyms and fitness facilities, and personal care services (spas, tattoo shops, barber shops, hair salons, etc., and by appointment only). Further, bars and restaurants are limited to 25% capacity for indoor dining and may only serve alcohol with food. The Orders also restrict the size of events and gatherings, whether indoor or outdoor, based on the occupancy limit of the venue. The new event guidelines are below.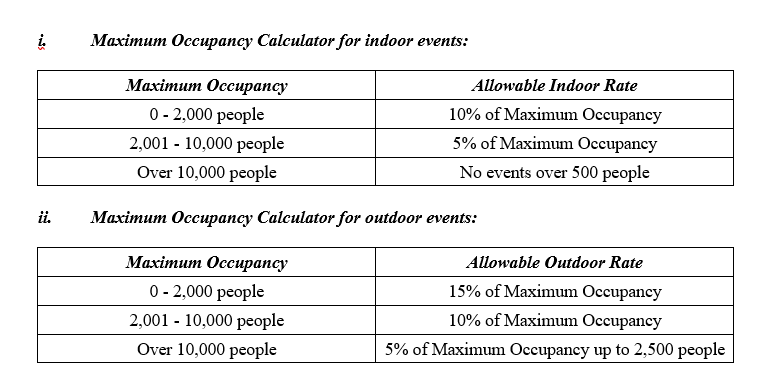 The Orders also set forth the enforcement mechanisms for the Orders, including progressive penalties for violations of the Orders, beginning with a written warning letter; followed by a 24-hour closure with a potential citation and/or fine for a second violation; followed by a 24-hour closure, fines and/or citations, and referral for criminal prosecution for obstructing the administration of law or other governmental function for subsequent violations. Prior to reopening, the business must correct all cited violations.
Thanksgiving Eve Closure Order
At 5:00 p.m. on Wednesday November 25th, all businesses in the retail food services industry must stop the sale or dispensing of alcohol for on-site consumption, and no patron can possess alcohol on the premises after 6:00 p.m.. Although the Order permits take-out alcohol sales, the Order will have the functional impact of closing many bars and restaurants, thereby limiting social gatherings. Businesses can reopen on Thanksgiving Day.

Stay at Home Advisory

The Stay at Home Advisory recommends that people do not leave their home, except for essential needs; do not have visitors in their home, except for essential needs; limit holiday gatherings; avoid travel; and in all respects, abide by the existing Orders related to Face Coverings and Travel.
School Safety Order
Schools in counties with "substantial transmission," which includes all Pennsylvania Counties as of the week ending November 20th except Cameron, Pike, Sullivan, and Wayne Counties, must either sign a certification with the State attesting that the School District will comply with the State's orders while conducting in-person learning or else move to fully remote instruction.

As discussed in a prior client alert, the Families First Coronavirus Response Act ("FFCRA") established two types of paid leave, Emergency Paid Sick Leave ("EPSL") and Expanded Family and Medical Leave ("EFMLA"), available to most employees if the employee needs to take off work to care for a child whose school was closed. Under the FFCRA, the expanded benefits expire on December 31, 2020, however, if school districts move to fully remote instruction en masse under the new Orders, there could be an increase in demand for benefits in the waning days of their availability.

The primary Mitigation, Enforcement, and Immunity Order issued by Governor Wolf is attached to this Alert. The other Orders are available on our website. Please contact a MacDonald Illig attorney if you have any questions regarding the new Orders issued by the Governor and Secretary.